OS:

(ระบบปฏิบัติการ)

Windows 98, 2000, NT, XP
Downloads:

(จำนวนครั้ง)

4,767
Company:

(บริษัท, ชื่อ)

Home Plan Software
Date added:

(วันที่ลง)

17/10/2005
File size:

(ขนาดไฟล์)

3.08 MB
Quality:

(คุณภาพ)

License:

(ชนิดไฟล์)

Shareware
User Rating:

(คะแนนจากผู้ใช้)

Mirror:

(ลิงค์สำรอง)
---
Home Plan Pro Software is for home design. It is so easy to learn how to use, you can begin drawing plans within minutes.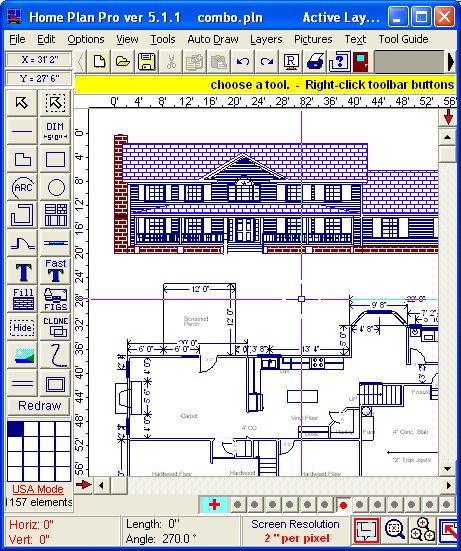 ---
General description
Home design has never been
easier than with Home Plan Pro
Compare!
| | |
| --- | --- |
| Most Home Design Software | Home Plan Pro |
| Has a steep learning curve. | You can begin using Home Plan Pro effectively within minutes. |
| Is hard to use. | Easy to use; work progresses swiftly. |
| Is very expensive. | Inexpensive, only $39. |
Further, in Home Plan Pro,
The integrated on-line help assures quick answers to any questions that arise.

You can click a button to download and install program updates so that you always have the latest enhancements at your finger tips. And updates are FREE.

You can use the built-in fax driver to fax your plans anywhere in the world.

Attach plans to email messages and send them with the built-in email server.

Export plans to DXF or bitmap files.
Home Plan Pro includes the home design tools you need.
Easily draw arcs, rectangles, circles, lines, and so forth.

Use the mouse, keyboard, or a combination of both.
Add scaled dimensions with two clicks.
Insert doors and windows with equal ease.
Zoom in or out with a click to work on detailed parts of the plan or to see the whole of it.
border="0" cellpadding="2" cellspacing="0" width="100%">

Time Savers

Customize

Choose drawing colors, line styles, fill patterns, and so forth.

multiple text sizes and attributes.
Work with Metric or US Measurement.
Calculate distances and areas in feet or meters.
Choose conventional or custom print scales.

Miscellaneous
There is, of course, much more to be said here. But hopefully it is clear that Home Plan Pro is comprehensive home design software.

Try it and see for yourself. Use it FREE for 30 days. Register it for only $39. We believe you will agree that Home Plan Pro provides far greater power for far fewer dollars than does any other CAD software.
Home Design Software At Its Best: Home Plan Pro
Want to build your dream house? Add a room to your home? Whatever your drawing needs, Home Plan Pro is your best choice.
It is so easy to learn how to use, you can begin drawing plans within minutes.
Since it is easy to use, you save tons of time.
On-line help answers your questions in seconds.

---
This is a fully functional version of Home Plan Pro.
Install it and try it. See if it is the software you want. You will have thirty days from the day of installation to >
---
ถ้ามีคำถามเกี่ยวกับหัวข้อโปรแกรมต่างๆ ให้ไปที่ Forum นะครับ : We hope you will get useful things from here, and please come back again. If you are not Thai,and want to post or ask for someone to help, please go to "International Board"
ร่วมแสดงความคิดเห็น (Post Comment)